2020 FG in E-health and welfare Workshop FG
Invited speakers
---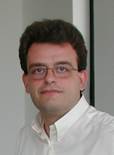 Antonis Argyros
University of Crete, Crete, Greece
argyros@ics.forth.gr
Antonis A. Argyros (Αντώνης Αργυρός) is a Professor of Computer Science at the Computer Science Department (CSD), University of Crete (UoC) and a researcher at the Institute of Computer Science (ICS), Foundation for Research and Technology-Hellas (FORTH) in Heraklion, Crete, Greece. He received a B.Sc. degree in Computer Science (1989) and a M.Sc. degree in Computer Science (1992), both from the Computer Science Department, University of Crete. On July 1996, he completed his PhD on visual motion analysis at the same Department. He has been a postdoctoral fellow at the Computational Vision and Active Perception Laboratory (CVAP) at the Royal Institute of Technology in Stockholm, Sweden. Since 1999, as a member of the Computational Vision and Robotics Laboratory (CVRL) of FORTH-ICS, he has been involved in many RTD projects in computer vision, image analysis and robotics.His current research interests fall in the areas of computer vision and pattern recognition, with emphasis on the analysis of humans in images and videos, human pose analysis, recognition of human activities and gestures, 3D computer vision, as well as image motion and tracking. He is also interested in applications of computer vision in the fields of robotics and smart environments. In these areas, he has published more than 160 papers in scientific journals and refereed conference proceedings and has also delivered several invited and keynote talks in international events, universities and research centers.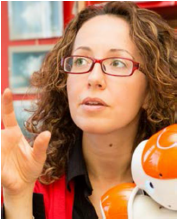 Hatice Gunes
University of Cambridge, UK
hg410@cam.ac.uk
Hatice Gunes is an Associate Professor (University Senior Lecturer) in the Department of Computer Science and Technology, University of Cambridge. Her research expertise is in the areas of affective computing and social signal processing that lie at the crossroad of multimodal interaction, computer vision, signal processing, and machine learning fields applied to computer/robot mediated human-human interactions and human-robot interactions. Her research work develops novel computational frameworks for analysing and understanding human behaviour, social signals and affect from facial expressions, vocal nuances, body posture/ gesture, and physiological signals, and for modelling these phenomena for creating socio-emotionally intelligent games, assistive technologies, virtual agents and robotic systems. She has published over 100 papers in these areas. Her current research vision is to embrace the challenges present in the area of health and empower the lives of people through technology by continuing her research with applications to social robotics and wellbeing. She has recently been awarded the prestigious EPSRC Early Career Fellowship (2019-2024) to investigate adaptive robotic emotional intelligence for wellbeing. Gunes is the President of the Association for the Advancement of Affective Computing (AAAC), the General Co-Chair of ACII 2019, and the Program Co-Chair of ACM/IEEE HRI 2020 and IEEE FG 2017. She is the Chair of the Steering Board of IEEE Transactions on Affective Computing, and has served as an Associate Editor of IEEE Transactions on Affective Computing, IEEE Transactions on Multimedia, and Image and Vision Computing Journal.
Aleix M. Martinez
The Ohio State University, United States
martinez.158@osu.edu
Aleix M. Martinez is a Professor in the Department of Electrical and Computer Engineering at The Ohio State University (OSU), where he is the founder and director of the Computational Biology and Cognitive Science Lab. He is also affiliated with the Department of Biomedical Engineering and the Center for Cognitive Science where he is a member of the executive committee. Prior to joining OSU, he was affiliated with the Electrical and Computer Engineering Department at Purdue University and with the Sony Computer Science Lab. He has served as an associate editor of IEEE Transactions on Pattern Analysis and Machine Intelligence, IEEE Transaction on Affective Computing, Computer Vision and Image Understanding, and Image and Vision Computing. He has been an area chair for many top conferences and was Program Chair for CVPR 2014 in his hometown, Columbus, OH. He is also a member of the Cognition and Perception study section at NIH and has served as a reviewer for numerous NSF, NIH as well as other national and international funding agencies. Dr. Martinez is the recipient of numerous awards, including best paper awards at ECCV and CVPR, Lumely Research Award, and a Google Faculty Research Award. He is also a co-founder of Online Emotion.